Spark was asked to take care of all rights clearances in regards to the online coverage of Topshop's participation at London Fashion Week (LFW) 2013. This included live streams and behind-the-scenes videos as Topshop turned its LFW catwalk into 'social entertainment'.
The high-street trendsetter, in partnership with Facebook, has developed cutting-edge technology to make the fashion show experience more inclusive for its legions of fans. For the first time, website users were able to customise clothes and accessories from the latest Topshop Unique collection as they appeared on the catwalk.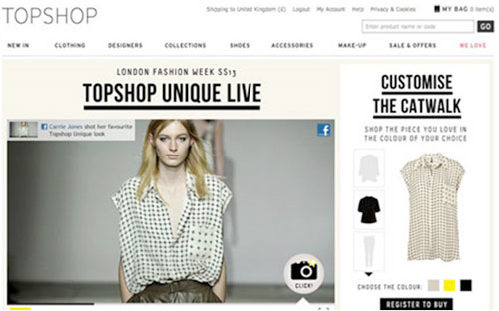 "We wanted to take the energy and the excitement of our iconic Oxford Street store to millions of people all over the world through Topshop.com," says Justin Cooke, Chief Marketing Officer. "It's social, it's commerce and it's entertainment all rolled into one."
Topshop developers worked closely with Facebook, having created a camera button as part of the catwalk livestream which users could click to capture their favourite looks to share online. Joanna Shields, the Facebook Vice President and Managing Director, said: "Fashion enthusiasts are sharing the things they love on Facebook more than ever. This is where the conversation happens, it's among friends and it's where great brands need to engage."
The catwalk clothes were available for pre-order whilst the models' makeup and the show's soundtrack could also be bought as the event happened.
The British Fashion Council has also developed Fashion Week's digital offer. 70% of the shows this season were livestreamed. The accessories designer Anya Hindmarch created a diary on pinterest.com while live Q&As via Twitter featured fashion stars such as Matthew Williamson.
Spark provides one-stop rights clearances for any kind of entertainment-related content, including a full contractual service.